RECEPTIONISTS AT KINGSBROOK ANIMAL HOSPITAL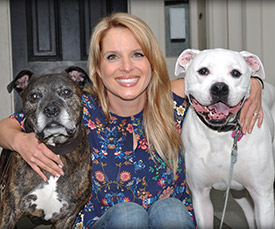 KELLY, CLIENT CARE SPECIALIST
I have worked in the veterinary field since 1999. My love for helping animals brought me to this profession.
I joined Kingsbrook Animal Hospital in January 2007. I am grateful to be a part of such a great staff here at Kingsbrook Animal Hospital. Everyone here is very caring and knowledgeable!
I currently own a Pit Bull Terrier, Wyatt & an American Bulldog, Sugar. I have always enjoyed working with animals and I love being able to provide great care to our patients and help educate our clients.
---
BRIANNA, CLIENT CARE SPECIALIST
Hi I'm Brianna! I am from Smithsburg Maryland and have been married for 2 years this past May, but we have been together for over 11 years!
I recently joined the field of veterinary medicine, but I love it so much! Before working at Kingsbrook I worked at a pediatric office and at a daycare. I enjoyed it and have always had a big heart for kids and animals alike. I always had animals growing up. I grew up with golden retrievers- we rescued a lab and a chihuahua poodle mix as well. Everyone here at Kingsbrook has been super nice and caring and I absolutely love seeing your pets and getting to love on them! A fun fact: me and KAH assistant Emma have been friends for over 15 years!
In my spare time, I enjoy hanging out with my family and friends. I have 2 nephews and one niece and love to spend time with them. I love being outdoors and the beach is my favorite place on earth.
---
AMANDA, CLIENT CARE SPECIALIST
I am originally from Thurmont MD and have always had an overwhelming love for animals – I knew from a very young age that working in the veterinary field was something that I wanted to do. Throughout high school I spent time shadowing at Catoctin Veterinary Hospital while juggling sports. Growing up my family has had our fair share of pets – owning and caring for birds, pocket pets, and of course we always had a couple dogs running around! After graduating from high school, I moved to Chambersburg PA to attend Wilson College. I graduated in May 2021 with my BS in veterinary medical technology and am currently studying for my national veterinary technician exam.
My journey with Kingsbrook started with my internship and I was so impressed with the compassion and quality of care that is provided – I knew this was the place for me. I currently live in Chambersburg PA with my 2 roommates, Alyssa and Natalie. During my free time, when I am not studying, I am a full-time dog mom to my 1-year-old crazy go lucky lab mix Beau! We love going on hikes, taking beach trips, and having friends over for our annual summer pool days and bonfires.
I am so proud to be part of the KAH team and take great pride in being able to help all of our clients and their fur babies!
---
CARLA, CLIENT CARE SPECIALIST
I always wanted to work with animals & worked in the veterinary field for many years before taking a break after my child was born. I joined Kingsbrook Animal Hospital in June of 2021.
You may have seen me in the hospital lobby as a client! I have been bringing my critters to KAH for almost 10 years. I chose Kingsbrook for my pets because I want the best for them. Which is why I am so happy to be a part of this amazing team.
I live in Frederick with my family & our 2 cats.