MEET OUR VETERINARY ASSISTANTS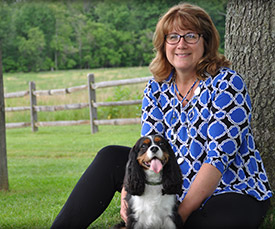 ANN CARLSON
I have been working at Kingsbrook Animal Hospital since it's opening in March of 1999. I began working part-time in a veterinary hospital as a means of income during my college years and I found I enjoyed working with animals much more than the career I was pursuing. Although I did complete my education in radiology technology, I began working full-time for a veterinary clinic as soon as I graduated.
I have now been in the veterinary field for more than 30 years. In addition to my husband and children, I am also a mom to my cavalier king charles spaniel, Quincy. In my spare time, I enjoy reading, hiking with Quinn, traveling with friends, and spending time with my husband Barry and children Brian and Olivia.
---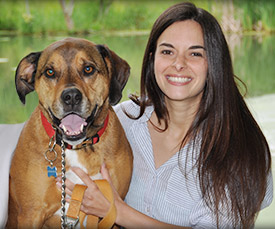 KAYLA REARDON
I studied Social Psychology and Biology at Park University in Parkville, Missouri where I earned my Bachelor's degree. All my life I have wanted to help others feel better, people and animals alike, if they were in pain I wanted to take care of them. I have always been passionate about the health and well being of others and had focused my career primarily around humans, until now. Being a veterinary assistant, I get the best of both worlds getting to work with both people and animals, and helping to care for those in need.
I started working at Kingsbrook Animal Hospital in May 2017. I am so lucky to work with such a smart, dedicated and passionate group of individuals. I chose to work at KAH because it is such an enjoyable and positive atmosphere. I love how the doctors and staff at KAH are so eager to teach, mentor, and support the growth and development of their employees. I enjoy working with such compassionate people who make it a purpose every day to provide the best quality of care to our furry companions.
In my free time, I love walking my dog Bruce and teaching him new tricks, playing music, and spending time with my wonderful family.
---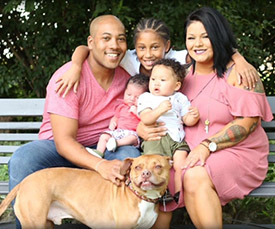 AARON GREENE
I was born and raised in Salisbury, MD in a neighborhood riddled with dog fighting and mistreatment of pets. As a young boy, I've always had a love for animals. Growing up watching animal shows and retaining information on different species showed my family that one day I would be involved in veterinary medicine. After graduating high school, I moved to Woodbridge, VA to open a new chapter of my life and to hopefully start my career in veterinary medicine. I finally had my opportunity with a small practice and my career flourished from then. Since, I've worked in various small animal practices and worked for the Veterinary Blood Bank in Severna Park, MD.
My loves in this life are my children and my gorgeous fiancé. I have 1 daughter named Amora Elizabeth and a son named Emory Allan. My fiancés name is Samantha who is my true best friend and the love of my life. Our son was born early at 32 weeks and this came just a week before my start here at Kingsbrook Animal Hospital. My team mates made my transition so smooth and I truly am blessed to have found such a great hospital, let alone a great team, to work for and with. The opportunity given to me by Kingsbrook has been an awesome experience and I am very grateful to have been chosen by such an awesome group of people. I can't wait to meet and build new relationships with you all.
---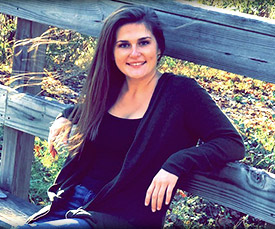 CAITLYNN SHIFFLET
Since a young age I have always been interested in animals. My Pappy played a huge role in me deciding my career choice. He would make me promise that I would become a Vet if he let me keep any animal I found. When I was younger I always helped on my Pappy's pygmy goat farm, I always enjoyed bottle feeding the baby goats. I grew up with multiple kinds of animals including guinea pigs, hamsters, fish, reptiles, goats, cat and dogs. Through out high school I was very active in the FFA. Through the FFA I got to travel multiple places and experience new things. I have a Pitbull and Lab mix named Ivy. On my free time I enjoy going on walks on the C&O cannel, kayaking in the summer and riding dirt bikes. The day I interned here is the day that I knew that this is where I needed to be. Everyone here is so kind and caring. They not only care about the pets but also the owners. I have gained so much experience and knowledge since I started working here in 2017.
---
EMMA CONLON
From an early age, I can always remember loving animals of all sizes, particularly large dogs. I have very happy memories of when I grew up in a home that was right next door to the home of a large animal veterinarian. I thought his job was incredible, even at a young age. He'd let me name his horses and play with his dogs when I wasn't allowed to have any!
I've always known that I wanted to do something with my life that had a noble purpose. However, I didn't always know that I wanted to work in veterinary medicine. Quite honestly, I woke up one day and decided that noble purpose was to work towards becoming a veterinary technician. Which is what has led me to where I am today. I am currently in my fourth year as a veterinary technician student at San Juan college's online veterinary technician program. I joined the Kingsbrook family in November of 2018. It's so gratifying to work at a practice with such quality of medicine for animals, which is something that you don't get to see every day. Working at a practice that continually strives to learn and become educated on various topics of medicine is more rewarding than I ever thought it could be. Getting to this point in my life has felt like a long and winding road, but I'm so grateful and appreciative of my journey.
I currently live in Hagerstown with my fiancée Nick and our senior Labrador retriever, Molly. In my spare time, I enjoy camping, hiking, reading and spending time with Molly, Nick, and my treasured family and friends.
---
VICA COMBS
I have had a passion for helping people and animals since a young age. I grew up with a household full of pets, there is not a time I remember not having a furry friend. As I started growing up, I acknowledged my passion for animals, but thought it would be too hard to see a suffering animal come through the doors. I switched my pathway to focus more on helping humans and got my Bachelor of Art in Criminology with a Psychology minor at Slippery Rock University. It was during this time in college one of my cats was diagnosed with renal disease and needed to be given subcutaneous fluids every single day. This was my first experience of having a sick animal that needed more than a pill to be treated. It was then I realized that I could handle the pressures of seeing a sick/injured animal. My outlook changed from being scared to realizing that I get to be a part of making these pets and their owners feel better.
I joined the Kingsbrook team because of their compassion and amazing atmosphere. This place is not just a place of work, it is like a mini family. Everyone is willing to lend a extra hand not only to the clients and pets but to the rest of the team.
---
JEN MEJIA
I remember when I was in fifth grade and my teachers asked, "What do you want to be when you grow up?" and my answer was always to work with animals. Growing up, I knew that I wanted to work in veterinary medicine, so much that I didn't even have a back up plan! When I was 17, I started working at my local animal shelter and stayed there for five years. My love and compassion continued to grow as I helped homeless pets and showed them that humans aren't so scary. It was an amazing experience getting to help find homes for the misunderstood. I was lucky enough to land an internship with Kingsbrook after graduating from Wilson College and ended up working here full time! I could not have asked for a better team that focuses on providing love and compassion to both pets and their owners. Only last step is to take my boards to become and RVT! .
---
PATRICIA MARI-MARQUEZ
For as long as I can remember, I've had a passion for working with animals. Around the age of 4, I would chase around rabbits in my backyard, in hopes of catching a pet. My older brother ended up taking me to a shelter where we adopted our rabbit Steve as a "birthday present for my mom." She definitely got a kick out of that one. Since then I've been surprising my family with all sorts of furry friends from guinea pigs and rabbits to hamsters, fish, and my dog Lila. Currently, the score is two dogs, two cats, two guinea pigs and way too many birds.
Even with all those pets, I kept thinking that I wanted to be an architect until I realized that there's more to designing houses than drawing on a sheet of paper. It wasn't until my senior year of high school that I decided to turn my attention to veterinary. I started taking agriculture classes where I got to handle some small animals before following the FFA to their farm shows to hand out ice cream and watch the sheep prance around.
I graduated from Wilson College with a major in Veterinary Medicine. Finding an internship was tough, but I found my way over to Kingsbrook where I quickly fell in love with the atmosphere. Not only were my new coworkers inviting and friendly, but the clients that came through the door just brightened my day. I love getting to meet you guys, and I hope to serve you and your furry pets for years to come!
---
ALYSSA WOOD
I am originally from Coudersport PA, which is a very small town located in Potter County. I, like many others, have always known I wanted to work in the veterinary field. I spent a lot of my time in high school volunteering at our local veterinary hospital/kennel. I was also a large participant in our agriculture program and proud member of FFA for 6 years! After graduating high school I made the move to Chambersburg PA where I attended Wilson College.

At Wilson I worked for our veterinary educational center working very closely with all of our animals on campus. I graduated Wilson College in May 2021 with a BS in Veterinary Medical Technology. After graduation I applied to some veterinary programs and got accepted to the University of Florida! Shortly after being accepted I came to shadow at Kingsbrook and immediately knew I wanted to be a technician – I was amazed at the capabilities of everyone here.

I currently live in Chambersburg with my two roommates. During my free time, I have been studying for my national veterinary technology exam with the help of my fur babies – I have a cat, Miles, and two guinea pigs, Myrah and Rayne. I also enjoy spending time outside, going to the gym, and making trips home to see my mom and 7 year old brother, Dakota.
 
I have been working with the Kingsbrook team now for a couple months and am so fortunate to be learning from the best in the field. I am looking forward to my future here at Kingsbrook as a part of this truly incredible and caring team – I can't wait to meet and get to know all of you!
---